ALED Recognized for Ability to Dramatically Improve Road Worker and Motorist Safety
Herndon, VA. Blue Vigil's Autonomous Aerial Light (ALED) was awarded the Innovation Award at ATSSA's 53rd Annual Convention and Traffic Expo on February 17. The ALED is a portable lighting system that uses a tethered UAV to position a high-intensity LED array 100 feet above a work site. Its higher light positioning eliminates the dangerous glare and shadows cast by traditional light towers which contribute to nighttime job site accidents.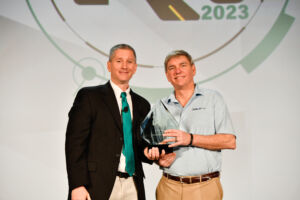 Blue Vigil's Autonomous Aerial Light is person-portable at only 65 pounds. It produces an 8,000-square-foot usable light field, providing nearly twice as much coverage as the towed light towers commonly used for nighttime work zones.
"The ALED reimagines how the classical light tower works. Traditional towed light towers lack portability and are limited in height, which results in dangerous glare and shadows. By employing the use of LED panels and tethered UAVs, our highly portable solution provides more usable light than existing products on the market," says Rob Schumann, CEO. "We are thrilled that the ALED has been recognized for its potential to improve roadway safety."
ATSSA's Innovation Awards are given each year as part of the Association's Annual Convention & Traffic Expo, which ran from Feb 17 – 21 at the Phoenix Convention Center. Products considered for the Innovation Award were evaluated on the criteria of lifesaving qualities, degree of need, innovation, design, and eligibility under the Highway Safety Improvement Program. The ALED was chosen from among 18 products entered in ATSSA's New Products Rollout by a panel of judges made up of department of transportation personnel.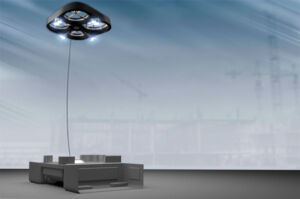 The ALED will enter Beta testing in May 2023 and will be available for sale later in the year.
About Blue Vigil
Blue Vigil is the U.S. industry leader in tether power systems for commercial drones. The RS1000 ground-based tether, compatible with most off-the-shelf drones, provides unlimited flight time when connected to a power source. Blue Vigil's tether platform is sold across the US and internationally and is currently in use by hundreds of public safety organizations across the country. Our proprietary core tether technology powers the new ALED Portable Light Platform.
Additional information is available at www.bluevigil.com.